Carolina Pain Physicians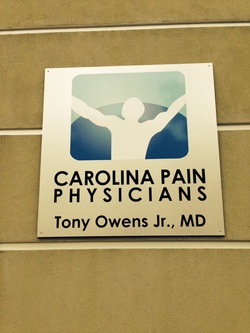 Carolina Pain Physicians opened its doors in March 2013. The Charleston community was in need of a Fellowship trained and Board Certified pain physician who could provide comprehensive pain management treatment. Dr. Owens
felt that he was called to return to the area in which he grew up to serve his community. His dedication to advanced pain management education and training allows him to provide a variety of treatment options with great success.
Our mission at Carolina Pain Physicians is to provide exceptional service to both the referring physicians and patients who choose our office for pain management care. Our practice is dedicated to seeing patients quickly while providing the most advanced treatment options possible.
Appointments
can usually be arranged in one to two weeks or sooner if needed. Many procedures can be performed the same day as the consultation visit.
When you become a patient at Carolina Pain Physicians you will see that we take an individual approach to each patients' pain.
Dr. Owens
truly listens to each of his patient's needs and concerns. He takes the necessary time to find the underlying cause of the pain and then develop a treatment plan that will be beneficial to the patient. We understand that one course of treatment will not work for every patient and we will not perform any unnecessary procedures.
Our staff is very friendly and available to answer any questions you may have. Whether you are an existing patient with questions about your treatment plan or a potential patient just looking for more information, contact us today!
---